Grundsätzlich ist das DB Autoprotection von DPM ein tolles Feature. Einmal in der Schutzgruppe für einen SQL Server aktiviert, werden alle neuen DB's automatisch in die Sicherung inkludiert.
Probleme gibt es nur dann, wenn der DPM Server mittels WMI den Server nicht abfragen, und somit auch nicht die erforderlichen Datenbanken ermitteln kann. Dann kommt es meist zu diesem Fehler:
One or more databases could not be protected automatically because auto-protection failed. If the databases belong to a SharePoint farm, then the farm recovery points will continue to get crashed without these databases. (ID 32511)

1) To fix auto-protection, resolve the errors and run AutoProtectInstances.ps1 from DPM Management Shell.
Nach einem Klick auf "View Detailed Errors" erscheint folgendes
DPM could not enumerate SQL Server instances using Windows Management Instrumentation on the protected computer ***

Please make sure that Windows Management Instrumentation for SQL server is in good state.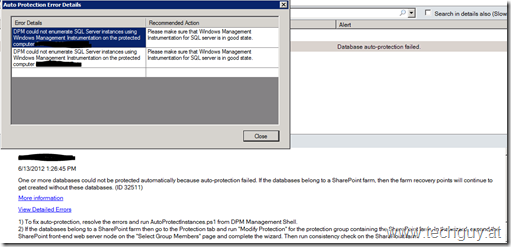 Ursachenforschung
Am SQL Sever starten wir "wbemtest"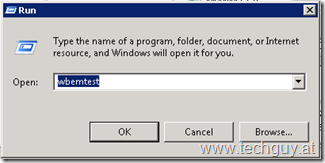 Klickt danach auf Verbinden und schreibt folgendes als Namespace "root\Microsoft\SqlServer\ComputerManagement10"
klickt danach auf Abfrage, und setzte folgendes SQL Statement ein
SELECT * FROM ServerSettings
Sollte dabei die folgende Fehlermeldung auftauchen, haben wir das Problem gefunden.
Number 0x80041010
Facility: WMI
Description: Invalid class

Lösung
Sucht im SQL Verzeichnis unter dem Ordner "Shared" nach der Datei "sqlmgmproviderxpsp2up.mof"
Danach startet ihr folgende Kommando in einer CMD
mofcomp *Pfad zur sqlmgmproviderxpsp2up.mof-Datei*
sollte dann so aussehen
mofcomp "%programfiles(x86)%\Microsoft\Microsoft SQL Server\100\Shared\sqlmgmproviderxpsp2up.mof"
Danach sollte die SQL Abfrage funktionieren und die Fehlermeldungen im DPM verschwunden sein.
Michael Seidl