Wer kennt diese Fehlermeldung nicht…
Free tape treshold reached
The number of free tapes in the Tape Library IBM TS3573 LTO6 is less than or equals the threshold value of 9. You must add tape to the library and mark it as free in order to prevent future backups from failing. (ID 3305)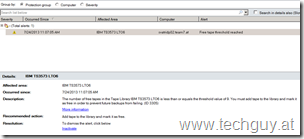 Grundsätzlich ja eine gute Idee, den User zu informieren, das zu wenig freie Bänder in der Library sind, jedoch finde ich den Schwellwert etwas großzügig ausgelegt.
Dieser Schwellwert liegt bei 20%, sobald unser DPM bei den regelmäßigen Admin Tasks (siehe Artikel – https://www.techguy.at/2011/12/01/was-der-dpm-2010-so-im-hintergrund-macht/) erkennt, das weniger als 20% an freien Bänder vorhanden sind, kommt diese Meldung. In unserem Beispiel haben wir eine IBM TS3573 LTO6 Library mit 41 Slots. 20% davon sind 10, also rechnet unser DPM richtig und erkennt das der Schwellwert von 9 erreicht wurde.
Viele Dinge können beim DPM konfiguriert werden, entweder per Registry, GUI oder PowerShell. Leider dieser wert nicht…. bis jetzt.
Es gibt eine Einstellung mit der wir diesen Schwellwert konfigurieren können, und zwar in der SQL DB.
Keine Angst, auch SQL Laien können diesen Wert ändern, hier folgt die Anleitung
Öffnet am DPM Server (oder dort wo die DB liegt) das SQL Management Studio

Meldet euch am SQL Server an
Startet eine "New Query"

und schreibt folgendes SQL Statement
use [DPMDB]

UPDATE    tbl_MM_MediaPool
SET              MinThresholdForFreePool = 4
WHERE     (Name = 'Free Media Pool' and MinThresholdForFreePool = '9')
folgendes müsst ihr anpassen.
use [DPMDB] – DPMDB ist der Name eurer Datenbank, sollte zu 99% DPMDB sein
und
SET MinThresholdForFreePool = 4 – Die Zahl stellt euren neuen Schwellwert dar den ihr benutzen wollt
und
WHERE     (Name = 'Free Media Pool' and MinThresholdForFreePool = '9') – diese Zahl stellt den aktuellen Schwellwert dar, diese Zahl holt ihr euch aus der Fehlermeldung im DPM
Danach habt ihr einen neuen Schwellwert gesetzt und somit sollte die Meldung nicht mehr erscheinen.
Das was hier beschrieben ist, wird von Microsoft natürlich nicht unterstützt, ich denke jedoch das diese Änderung keinerlei Auswirkung auf die Funktionen des DPM hat. Ich habe diese Einstellung bereits bei einigen Kunden gesetzt,  ohne Probleme bisher.
Michael Seidl aka Techguy