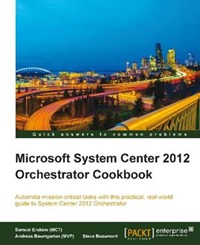 Ich hab mal wieder ein Buch von PacktPub bekommen.
Microsoft System Center 2012 Orchestrator Cookbook heisst es und umfasst mehr als 300 Seiten und besteht aus 9 Kapiteln. Wie die anderen "Cookbooks", ist dieses Buch etwas anders aufgebaut als ein typsiches Fachbuch.
Es ist zwar in Kapiteln und Themen aufgeteilt, jedoch werden immer wieder Fragen oder Szenario's gestellt und diese dann Schritt für Schritt erläutert und erklärt, oder mittels Bilder als How To erläutert. Ich finde diese Art ein Buch zu schreiben sehr interessant und ist sicherlich eine Alternative zum "normale" Fachbuch.
Ich selbst beschäftige mich nun seit knapp 2 Jahren intensiv mit Orchestrator und habe das Buch sehr gerne gelesen und noch einiges gelernt und neues erfahren.
Ein kleines Manko habe ich aber gefunden, die Abkürzung SCORCH ist nicht gültig, SCO ist die offizielle Bezeichnung für System Center Orchestrator. Aber ansonsten ist das buch absolut lesenswert.
Hier die einzelnen Kapitel:
Unpacking System Center 2012 Orchestrator
Initial Configuration and Making SCORCH Highly Available
Planning and Creating Runbook Designs
Creating Runbooks for Active Directory Tasks
Creating Runbooks for System Center 2012 Configuration Manager Tasks
Creating Runbooks for System Center 2012 Operations Manager Tasks
Creating Runbooks for System Center 2012 Virtual Machine Manager Tasks
Creating Runbooks for System Center 2012 Service Manager Tasks
Using Advanced Techniques in Runbooks
Die Autoren sind:
Samuel Erskine
Andreas Baumgarten
Steven Beaumont
Ein absolut lesenswertes Buch, sowohl für Einsteiger als auch für Fortgeschrittene.
Das Buch ist hier verfügbar: http://www.packtpub.com/microsoft-system-center-2012-orchestrator-cookbook/book
So, und jetzt kommen wir zum Gewinnspiel.
Es werden 2 Exemplare von diesem Buch verlost, was ich dazu von euch benötigt:
Kommentar unter diesem Beitrag, und verratet mir, warum gerade du das Buch gewinnen möchtest
Bitte benutzt eine gültig Mail Adresse, denn diese wird benötigt um euch das Buch zu senden
Das Gewinnspiel läuft bis zum 23. November 2013 – 23:59 Uhr
Die Preise werden unter allen Teilnehmern am 24. November 2013 verlost
Zum Schluss noch die Gewinnspiel Bedingungen, ohne die es leider nicht funktioniert.
Michael Seidl aka Techguy