In diesem Artikel zeige ich euch die Installation und Konfiguration der System Center Orchestrator 2012 SP1 Integration Packs, wo ihr die benötigten Daten herunterladen könnt und welche Integration Packs es für SCO 2012 SP1 gibt. Als Einleitung erkläre ich den eigentlichen Nutzen dieser Integration Packs.
Was sind SCO Integration Packs?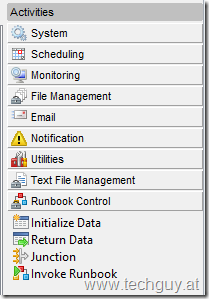 Wer sich bereits mit SCO beschäftigt hat, kennt ja die Standard Activities die im SCO enthalten sind.
Darunter die Gruppen System, Scheduling, Monitoring, File Management, Email, Notification, Utilities, Test File Management und Runbook Conrol.
In diese Gruppen befinden sich bereit viele Activities die es bereits sehr einfach machen ein Runbook zu bauen, gerade mit der Möglichkeit hier schon PowerShell zu nutzen bietet bereits viele Anwendungsszenarios.
Dennoch bietet Microsoft, und einige Dritt-Anbieter zusätzlich Integration Packs (Erweiterung, Plugins…) für Ihre Produkte, was die Integration mit diesen Produkten sehr vereinfacht.
Am Ende dieses Artikel gibt es ein paar Links zu System Center Orchestrator Integration Packs von Microsoft und anderen Herstellern.
Installation eines Integration Packs in SCO
Zuerst einmal müssen wir das Integration Pack herunterladen, und entpacken. Die Sources findet ihr am Ende diese Artikels.
Als Ergebnis solltet ihr 1 oder mehrere *.oip Files haben, in unserem Beispiel benötigen wir das Integration Pack für den SCCM

Um das Integration Pack zu importieren, benötigen wir den Deployment Manager
Nach erfolgtem Start mittel Rechtsklick auf den Ordner "Integration Pack" und "Register IP with the Orchestrator Management Server…" wählen

Der Assistent führt uns nun durch den Prozess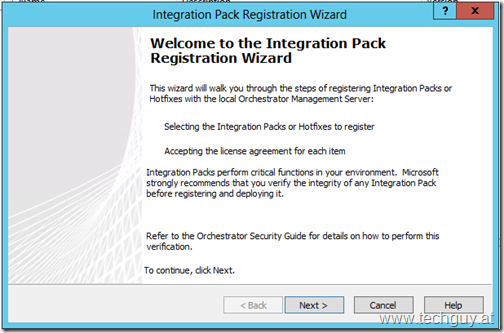 Wir wählen das richtige File aus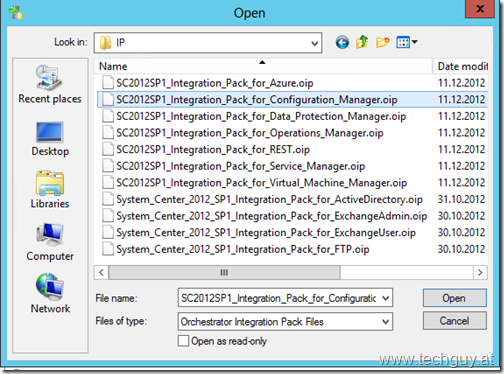 Und bekommen als Bestätigung nochmals den richtigen Namen und die Version angezeigt. In diesem Fall ist diese IP mit der Version 7.1 für den System Center Orchestrator 2012 SP1 gemacht.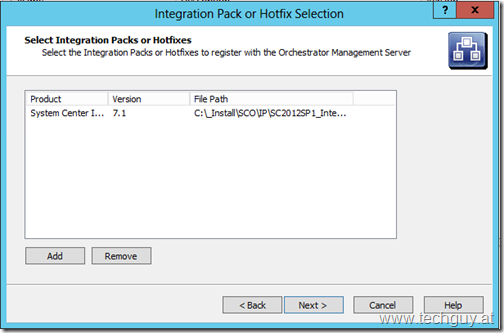 Den Assistenten dann abschließen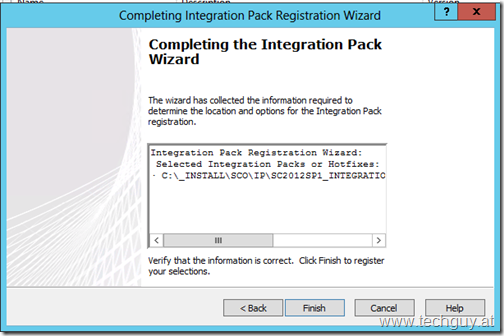 und nun ist das IP registriert, jetzt muss es noch verteilt werden.
Ein IP muss auf allen Runbook Server und Rechner auf dem der Designer verwendet wird, verteilt werden.
Also wieder Rechtsklick auf "Integration Pack" und "Deploy IP to Runbook Server or Runbook Designer…"

Danach im Assistenten das bereits registrierte IP auswählen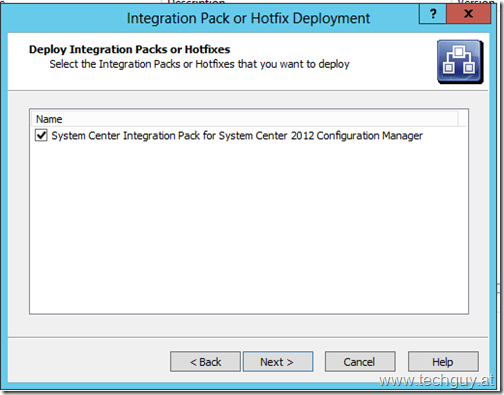 Die Server auswählen auf denen das IP verteilt werden soll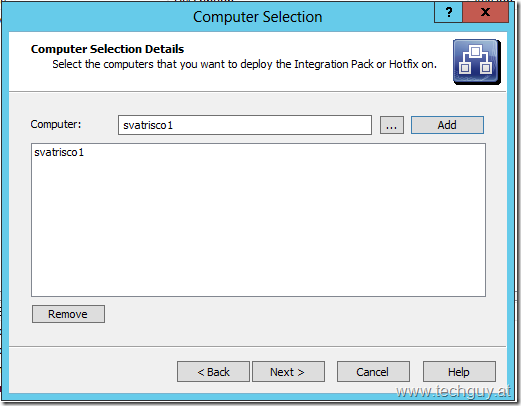 Hier habt ihr die Möglichkeit die Verteilung zu planen oder sofort auszuführen.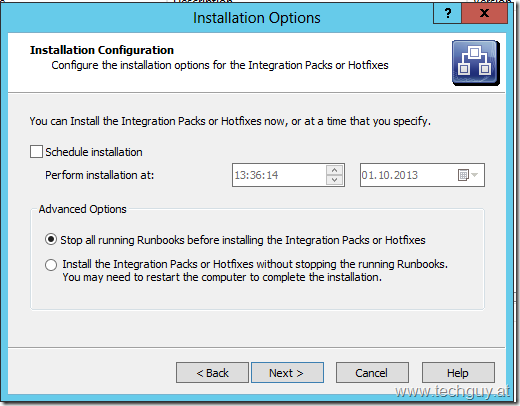 Nach dem Abschluss des Assistenten werden die IP's verteilt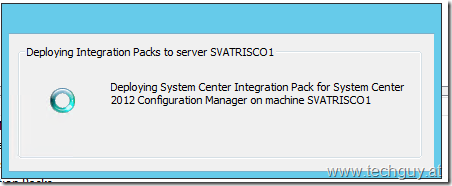 Nach einem Klick auf den Runbook Server sehen wir welche IP's auf diesem vorhanden sind

In der Sidebar scheint nach dem Neustart des Runbook Designer das neue IP mit den Activites auf
Konfiguration der Integration Pack's
Wir müssen jetzt die Verbindung zu unserem Configuration Manager 2012 herstellen, dazu klicken wir im Runbook Designer unter Options auf unser IP, in diesem Fall "SC 2012 Configuration Manager"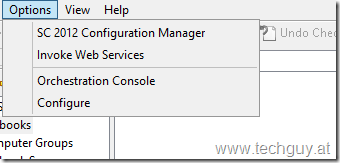 Hier erstellen wir eine Konfiguration mit einem sprechenden Namen. Hier können wir beliebig viele Verbindungen erstellen, diese werde danach pro Activitie ausgewählt.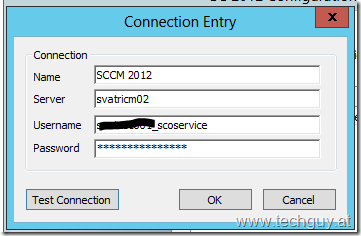 Mit einem Klick auf "Test Connection" können wir die Verbindung zum Server testen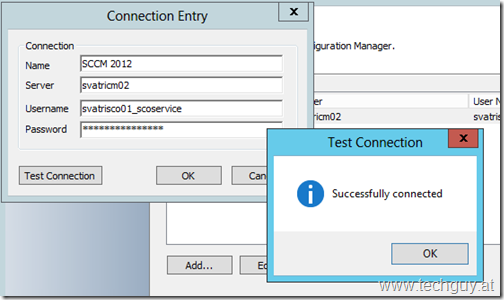 Danach ein Activitie aus dem importierten IP auswählen und mittels Doppelklick die Konfiguration starten. Hier wählen wir zuerst unter "Connection" die soeben erstellte Verbindung, danach können wir die Einstellungen des Activities anpassen und das Runbook fertig bauen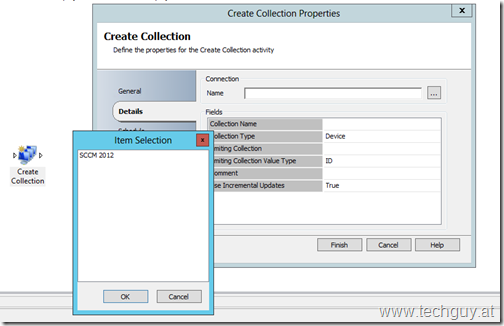 Hier noch eine Link zu verschiedenen IP für SCO
Microsoft IP für SCO 2012 SP1 – http://www.microsoft.com/en-us/download/details.aspx?id=34611
DELL Advanced Infrastructur Manager IP – http://en.community.dell.com/techcenter/systems-management/w/wiki/4113.dell-advanced-infrastructure-manager-aim-integration-pack-for-microsoft-system-center-opalisorchestrator.aspx
Remedy IP von Kelverion – http://www.kelverion.com/bmc-download/
IP Cleaner Tool – http://blogs.technet.com/b/orchestrator/archive/2012/05/31/cool-tool-orchestrator-ip-cleaner-sneak-peek.aspx
Cisco UCS IP – http://developer.cisco.com/web/unifiedcomputing/systemcenter
Exchange Admin IP – http://technet.microsoft.com/en-us/library/jj614529.aspx
NetApp IP – http://www.netapp.com/us/solutions/cloud/microsoft-cloud/index.aspx
Wer sich die Liste hier mal ansieht und etwas Phantasie hat, der kann sich vorstellen was nun alles möglich ist.
Ihr kennt noch Integration Packs die hier nicht gelistet sind, schreibt mir den Link in den Kommentaren.
Michael Seid aka Techguy