Hier mal ein kleines Update zu einem Fehler den ich lange versucht habe zu lösen und der dann doch sehr einfach war.
Folgende Symptome sind aufgetreten:
Einige Hyper-V Server konnten nicht gesichert werden
Auf einem Hyper-V 2012 Cluster der insgesamt 30 Hyper-V VM's enthielt, konnten 2 VM's nicht gesichert werden. Zuerst machte ich den Test ob es an einem bestimmten Host liegt und hab die VM's mal auf andere Hosts verschoben, leider blieb das Problem.
Danach startete ich in den betroffenen VM's die Eingabeaufforderung und führte folgendes Kommando aus
vssadmin list writers
Das ergab folgendes Bild: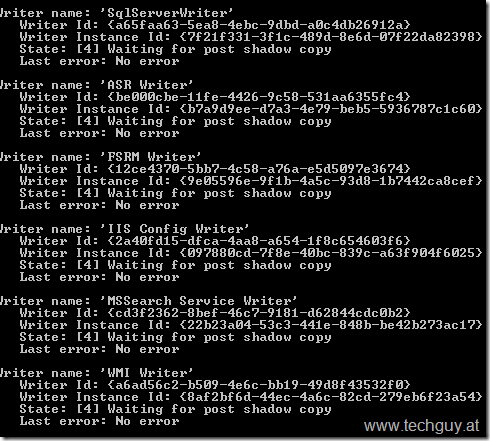 Also viele Writer hatten den Status: "Waiting for post shadow copy" und das über mehrere Stunden.
Auch der DPM Job lief viele Stunden, ohne abzubrechen und ohne ein einziges MB zu übertragen.
Danach ein Blick in das Event-Log, und da kam folgende Meldung zum Vorschein: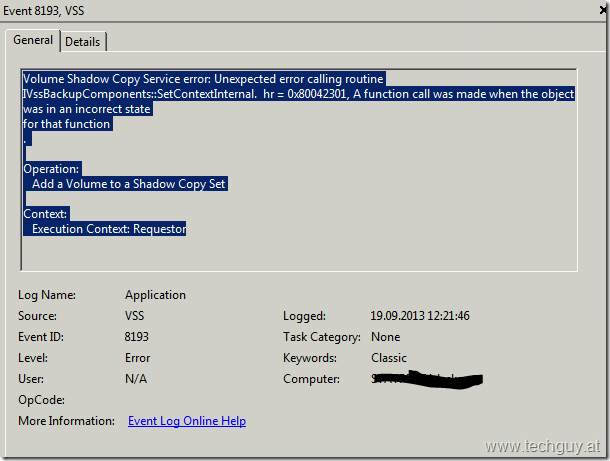 Volume Shadow Copy Service error: Unexpected error calling routine IVssBackupComponents::SetContextInternal. hr = 0x80042301, A function call was made when the object was in an incorrect state for the function.

Operation:
Add a voume to a Shadow Copy Set

Context:
Execution Context Requestor

————————–

Source: VSS
EventID: 8193
Die Internetrecherche hat hier leider auch nicht viel ergeben, außer das ich mal was gefunden hatte, das es bei einem weiteren Versuch wieder klappen sollte. Und tatsächlich nach einigen Stunden und mehreren Versuchen hat es dann auf einmal wieder geklappt, aber eben nur einmal.
Lösung
Nach langem Suchen, viele Stunden habe ich benötigt, und dann ist mir was aufgefallen. auf den betroffene beiden Servern war ein Antivirus installiert, und zwar nur auf diesen beiden Servern. Diesen also deaktiviert, Server mal rebootet damit die VSS Writer wieder einen sauberen Staus hatten, und auf einmal lief die Sicherung ohne Problem.
Danach den Antivirs mit Ausnahmen für DPM konfiguriert und schon lief alles wieder.
Michael Seidl aka Techguy