System Center Data Protection Manager have come a long way, and has gotten some cool new features in the last few years.
Cloud Backup, VMware Support, best Backup Solution for Microsoft Products, support for all the new Server 2016 Features like Storage Spaces Direct, RCT, Virtual TPM, Backup Mixed Mode Cluster and many more.
System Center Data Protection Manager has been always the first choice for our Customers, to provide a perfect Backup Solution of their Microsoft workload, fully integrated in their Microsoft Datacenter and the possibility to store the long term Backup to the Cloud.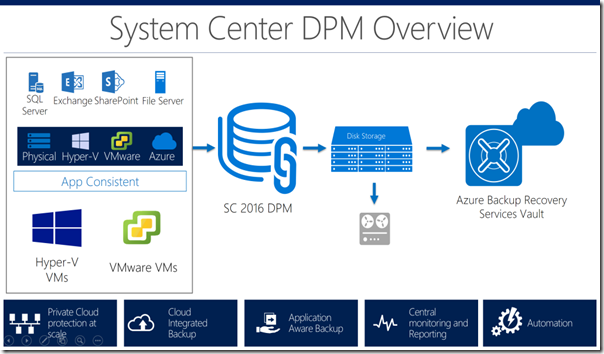 So, SCDPM 2016 has been released in Q4 2016 and we got a huge new Feature to store our Backup files called Modern Backup Storage.
What is Modern Backup Storage
Modern Backup Storage is a new way to store your short term Backups to Disk and to make your disk Backup faster, less disk space consuming and more intelligent.
With the old SCDPM, each Datasource has needed 2 Volumes, one for the initial Backup, one for the Changes. This cost a lot of Disk Space.
With Modern Backup Storage in SCDPM 2016 the Backup is stored on a ReFS Disk.  Modern Backup Storage is using ReFS Block Cloning and VHDX technology, so Backups are 3 time faster and save up to 50% Disk Space on your SCDPM 2016 Server.
See this Video for some Details
https://blogs.technet.microsoft.com/dpm/2016/10/19/introducing-dpm-2016-modern-backup-storage/
How to use Modern backup Storage
If you install SCDPM 2016 on a Server 2016, Modern Backup Storage will be available automatically.
To add a Disk to SCDPM 2016 as a Modern backup Storage Disk, configure your Volume with a Drive Letter, yes that's correct, a drive Letter. SCDPM 2016 Modern backup Storage will use a a Simple Volume with a Drive Letter.
You are also able to add a Friendly Name to your Volume, for example, Gold, Silver, Bronze to classify your Storage.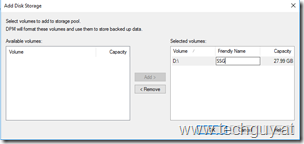 Afterwards, SCDPM will create a cryptic folder on this Volume, in there all your Backups will be stored in VHDX files formatted with ReFS.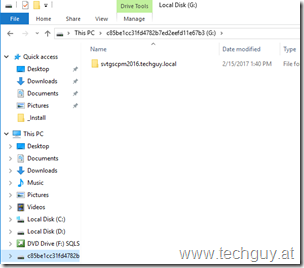 When your create or modify a Protection Group, you now be able to select the Drive, where you want to store your Backups. So, for example, you can store you SQL Backups on a high performance Disk, and your HyperV Backups on a less high performance Disk.
A Customer Example
A few of our customers already has been migrated to SCDPM 2016 and have seen the Storage saving.
Our Customer in this Example is located in Upper Austria and is working in the Food Industry.
Customer is using HyperV for Virtualization, Microsoft SQL, Exchange and File Services and some System Center Products.
At the end of 2016 we have started the Migration from SCDPM 2012 R2 to a new SCDPM 2016 Server. Our goal was of course, to use MBS to save Disk space and to use the new SCPDM Technology.
Before we have started, our existing SCDPM 2012 R2 looked like this.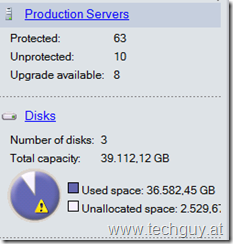 So, 63 active Servers and around 36,5 TB on used disk. Than we have started the Migration to our new Server.
After the Migration to a complete new SCDPM Server with SCDPM 2016, the Storage looks like this.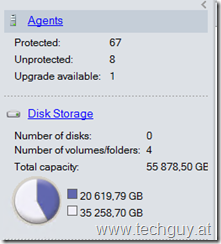 So, the New Server is backing up 67 Servers, we also added some Server in the Environment during the Migration.
But the SCDPM Server is only using 20,6 TB on Backup Disk.
So we saved around 16TB on Disk, which means we saved around 44% on our SCPDM Backup Disk.
So Microsoft is telling the truth so save nearly 50% on Backup Space with SCDPM 2016 Modern Backup Storage
Also the Backup Jobs are running much faster, sorry but that's hard to proof, you need to trust me and Microsoft on this
Now the Facts about Modern Backup Storage
Save up to 50% on Backup Storage, depends on the Workload, to make sure, use the SCPM 2015 Modern Backup Capacity Planer: https://www.microsoft.com/en-us/download/details.aspx?id=54301
3 time faster Backup, that's related to the ReFS Technology, this is also what we saw at our customers. I can not guarantee a 3 time faster, but I can say that the Backups are doing faster.
So go ahead and Upgrade to SCDPM 2016 and install the newest Update Rollup, it makes fun.
Michael Seidl aka Techguy